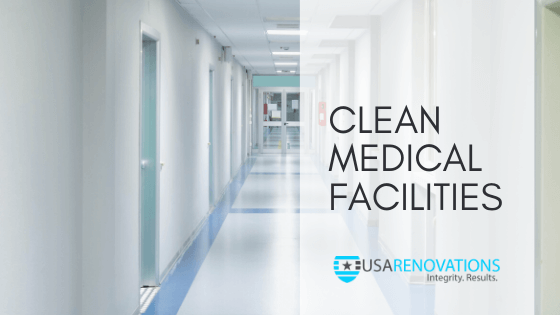 With cities gradually opening businesses, some people are still on edge when it comes to being in contact with others.
Because of the pandemic, some medical facilities and hospitals have shut down completely or have closed waiting areas. Patients are asked to sit in their cars until they are ready to be seen and new procedures, like checking temperatures before heading into facilities, were thought to become the new norm.
Since stages of reopening have begun, waiting rooms and smaller facilities will reopen, but, visitors may still be on edge. In order to lower anxiety and deliver comfort to patients and staff during their visits or shifts, hospitals and medical facilities can implement certain practices.
HIRE JANITORIAL SERVICES
Yes, staff should clean rooms after each patient is finished and wipe down common areas frequently, but having a janitorial service follow behind at the end of each day can assure cleanliness.
Professional janitorial services use high-quality cleaning products that will reassure medical facilities and hospitals are meeting proper standards each day. This not only can comfort patients who make visits but also affirm to staff that their work environments are safe.
SCHEDULE DEEP CLEANINGS
Scheduling deep cleanings aren't one size fits all for hospitals and medical facilities. Factors like how often patients visit and what season of the year determines how often deep cleanings should be scheduled. 
Foot traffic can play a role in how often facilities should be cleaned. For example, emergency rooms will need to be cleaned more than primary care facilities because of the number of visitors each location receives. Climate also plays a role in scheduling cleanings. Spring and summer months produce more pollen which can irritate patients with allergies, so cleaning during this time may need to be more frequent.
The easiest way to determine an effective schedule is to consult with a professional cleaning service. They'll be able to share best practices and detect how often deep cleanings are needed for individual spaces.
PROMOTE SANITATION MEASURES
For reassuring measures, hospitals and medical facilities can promote its sanitation practices through signage, announcements and other forms of promotion to its staff and patients. Facilities sharing that it uses a professional cleaning service along with daily cleaning practices is a great way to calm anxious patients who may be afraid to visit thanks to the pandemic.
USA Renovations provides professional deep cleaning, janitorial, disinfection and other sanitation services that will relieve the stresses of cleaning hospitals and medical facilities. 
As an essential business, we're here to help during the pandemic! Contact us for more information on our services.