USA Renovations has provided stained concrete services across the nation. Whether you are a general contractor or direct buyer, we want to work with you and provide the best stained concrete service possible.
What is stained concrete?
If you are seeking an elegant surface which is beautiful, welcoming, and very economic, stained concrete is your solution.
Stained Concrete is not a topical coating or a paint, rather a penetrating mixture of stain concentrate, water, forms of acidic liquids, and inorganic salts that when applied to a cementitious surface chemically reacts with the calcium hydroxide within the concrete surface.
This chemical reaction allows for a permanent bond to the hydrated lime which allows for a long and economic life cycle.
Stained concrete is a chemical concentrate that is available in powders or liquids.
 Both are mixed with chemical reaching with the slab that is achieved in simple terms, there are two parts that make up epoxy.
They consist of 1) an epoxy resin which is cross-linked with 2) a co-reactant or hardener.
Epoxy coatings are formulated based upon the performance requirements for the end product.
When properly catalyzed and applied, epoxies produce a hard, chemical and solvent resistant finish.
Utilizing the professionals at USA Renovations your installation will be performed with ease with a great overall finish. Below are the steps involved when staining a concrete surface:
Preparation

Application of stain

Clean & Protect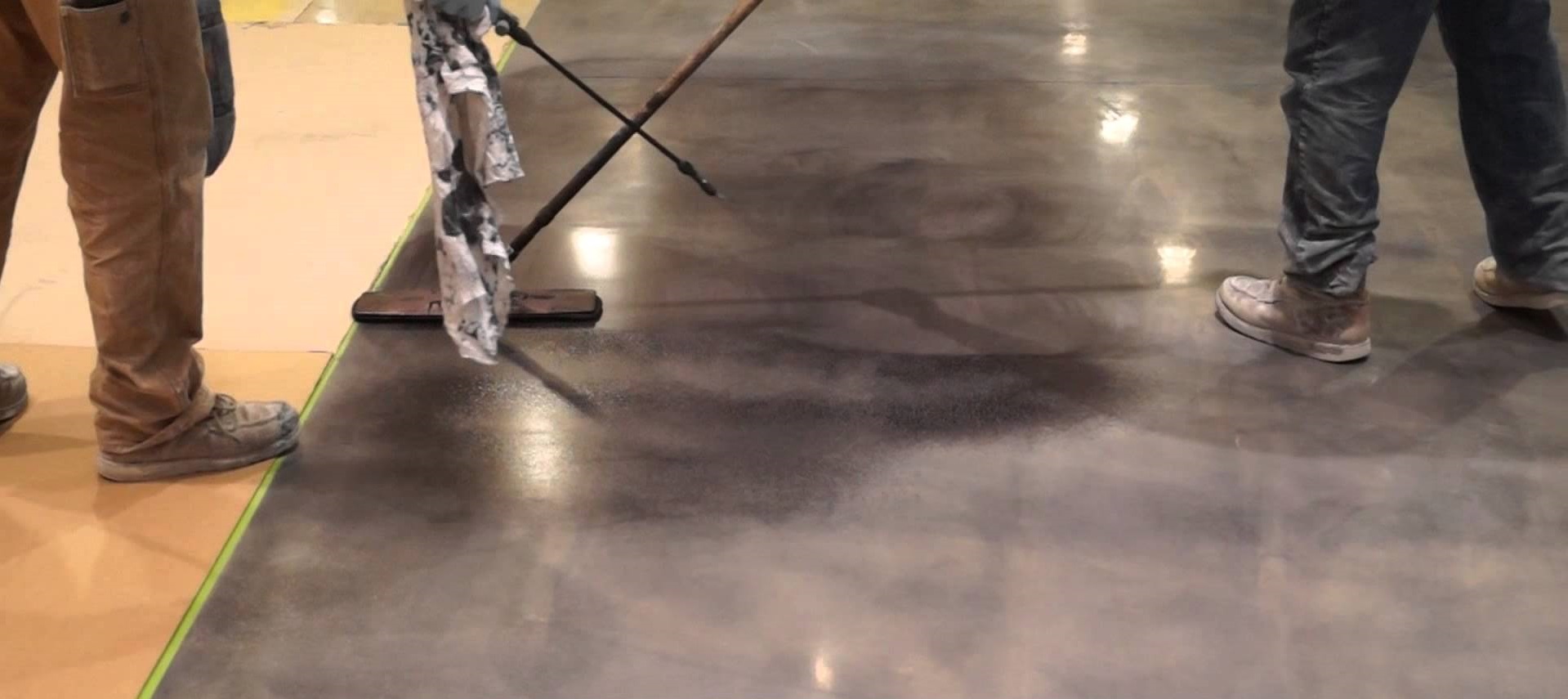 Call For a Quote:
(877) 935-9411
We understand that you may have questions that come up regarding stained concrete. Let us help!
What are the benefits of stained concrete?
A Stained Concrete floor continues to be a popular choice for all retail and commercial facilities. With its warm and inviting appearance, Stained Concrete will continue to be a top pick within the concrete finishes sector. Many of the benefits that keep this floor in high demand are:
Sustainable

 

– Staining a concrete surface will reduce the maintenance over the surface's life cycle. As an exposed concrete surface is much more durable with the stain chemically reacting with that surface, this application allows stained concrete to remain as a proven sustainable surface.
Unsurpassed Water Resistance

 

– Being that water is the earth's most corrosive resource, stained concrete is "for the most part" completely unaffected by the remnants of water. With the slab being exposed, moisture will still pass through the concrete but once dry, it will not leave a lingering effect.
Energy Savings

 

– Thermal Mass is a basic property of concrete and with an exposed concrete surface, the slab is able to slowly absorb and release hot and cold climate. With no carpet or wood to dissipate the surrounding heat/cold, the slab uses its thermal mass to its maximum potential. This in turn can make your climate control more efficient.
Less Maintenance

 

– With an exposed stained concrete surface, maintenance is much less than that of a tile, wood, carpet, or laminate. Better suited for large areas, stained concrete will reduce the cleaning efforts with only requiring auto scrubbing or light mopping.
Inexpensive

 

– Don't be fooled by the price, stained concrete can be achieved for much less than you think. Using your existing concrete slab, our process of staining is quick and effective, making this a budget friendly choice.
Slip Resistant

 

– Stained concrete will not change the slip coefficient, however, your already existing slab has a high slip coefficient of friction already built in. Keeping your surface exposed and enhancing the image with a stain will keep slips to a minimum while keeping the surface looking beautiful.
Polish-able

 

– Our professionals can go a step further and mechanically polish your stained concrete improving not only every one of these benefits above, but there are several benefits listed on our polished concrete page.
What is coefficient of friction and why does it matter?
A safe floor must have high levels of friction at the surface which is measured by a coefficient of friction rating. This measurement declares whether a floor will have a high or low probability of a slip and fall. The higher the rating of the coefficient of friction, the lower the chances are of slipping: whereas the smaller the rating, the greater the risk. For standard shoes, a concrete floor surface will displace a coefficient that is high enough to predetermine the reasonable probability of slipping.
The following list provides an average of values:
Thick grit quartz floors: .85 – 1
Aluminum oxide grit epoxy floors: .65 – .80
Tennant High Traffic System Floors: .65 – .68
Broom finished bare concrete floors: .60 – .70
Epoxy or Urethane floors with Sharkgrip additive: .55 – .60
Bare concrete, non-broom finished floor: .55 – .60
Steel troweled, bare concrete, non-broom finished floor: .50 – .55
Solid epoxy or urethane floor with no grit added: .50 – .55
Linoleum floor: .30 – .50 (depending on how heavily waxed)
How is stained concrete installed?
Step 1 – Preparation
We recommend the use of concrete grinders which use coarse diamond segments to refine the surface of minor pits, blemishes, light coatings or prior stains from the floor. This eliminates the majority of imperfections that stain's translucent finish may show when not prepped professionally. 
Step 2 – Application
After preparation of the surface has been performed it is time for the mixture of stain to be installed. Using a special pump sprayer, we evenly apply the stain to the surface throughout the job until full coverage is met. The stain becomes dry to the touch in 15 – 20 minutes with full cure taking place within 24 hours. 
Step 3 – Clean & Protect
Once the stain is fully cured, the surface residue is removed. If the stain is an acid-base, it requires neutralization using baking soda or ammonia. If the stain is water-based, it does not require neutralization and can simply be cleaned with the use of an auto scrubber. After this cleaning is completed, an optional clear coating sealer is used to protect the stain.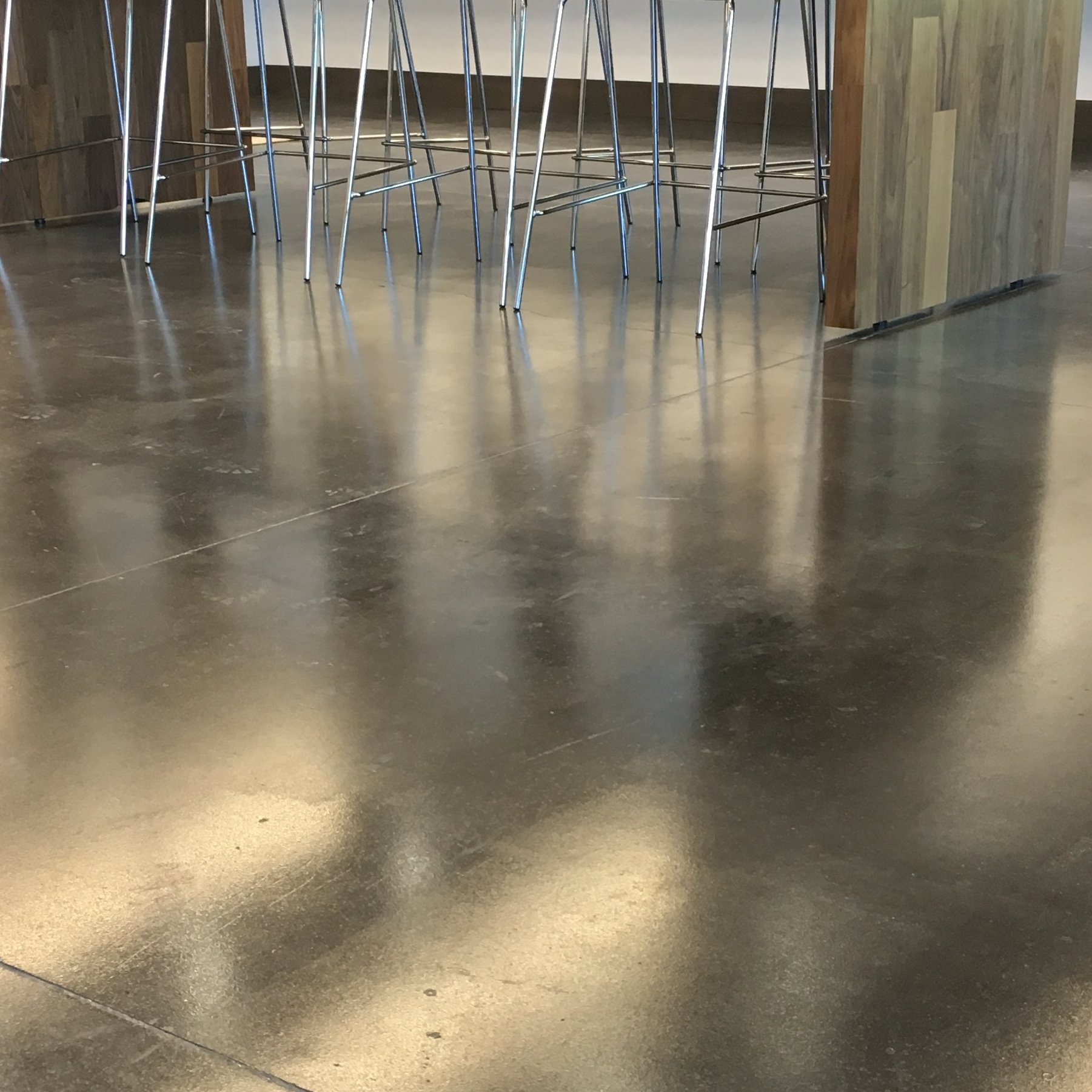 Sealed Concrete
Sealing brings out the beauty of a concrete floor by enhancing the color and adding sheen. Sealing also preserves the decorative treatment.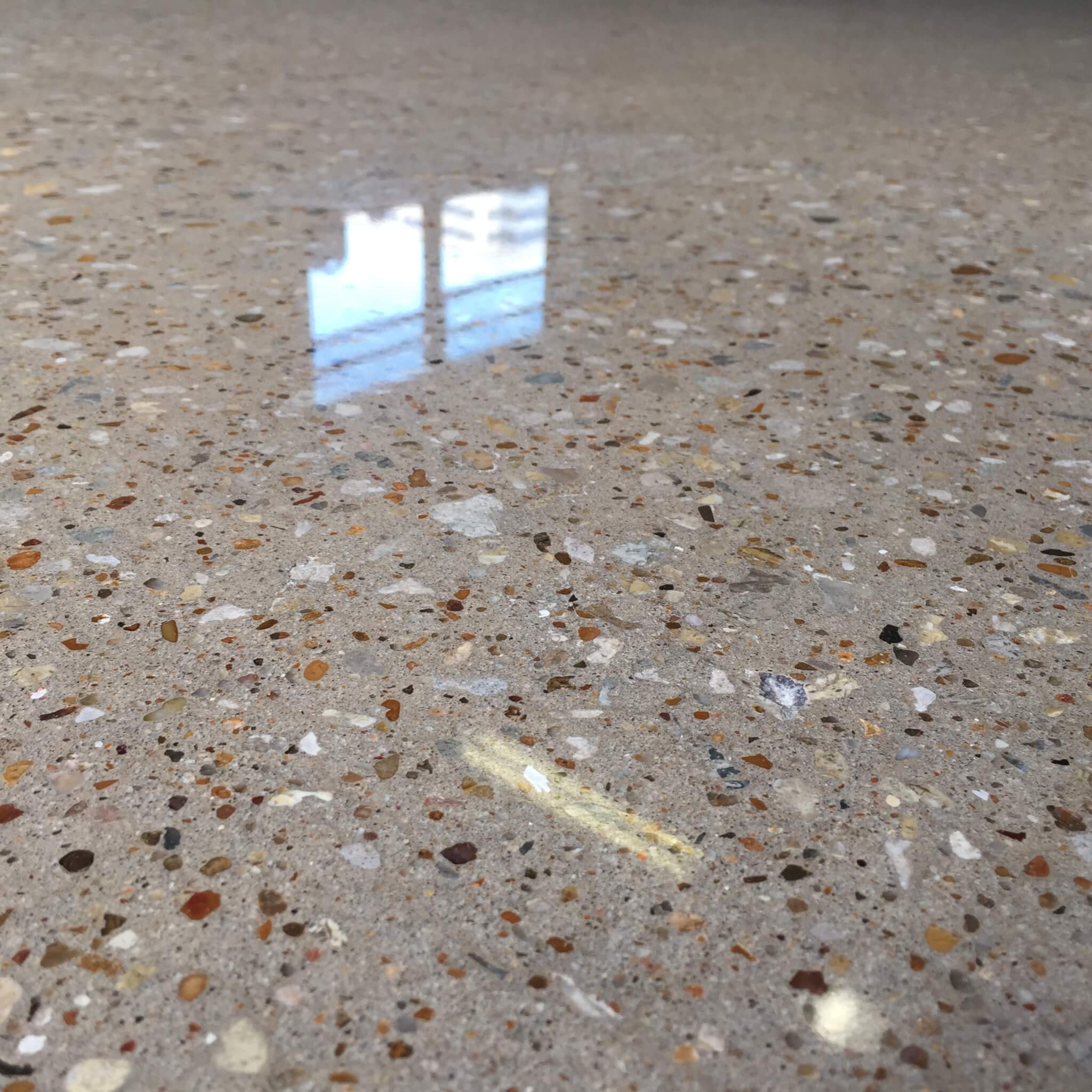 Polished Concrete
In this multi-step process, the concrete floor is mechanically ground, honed and polished with bonded abrasives in order to cut a concrete floor's surface.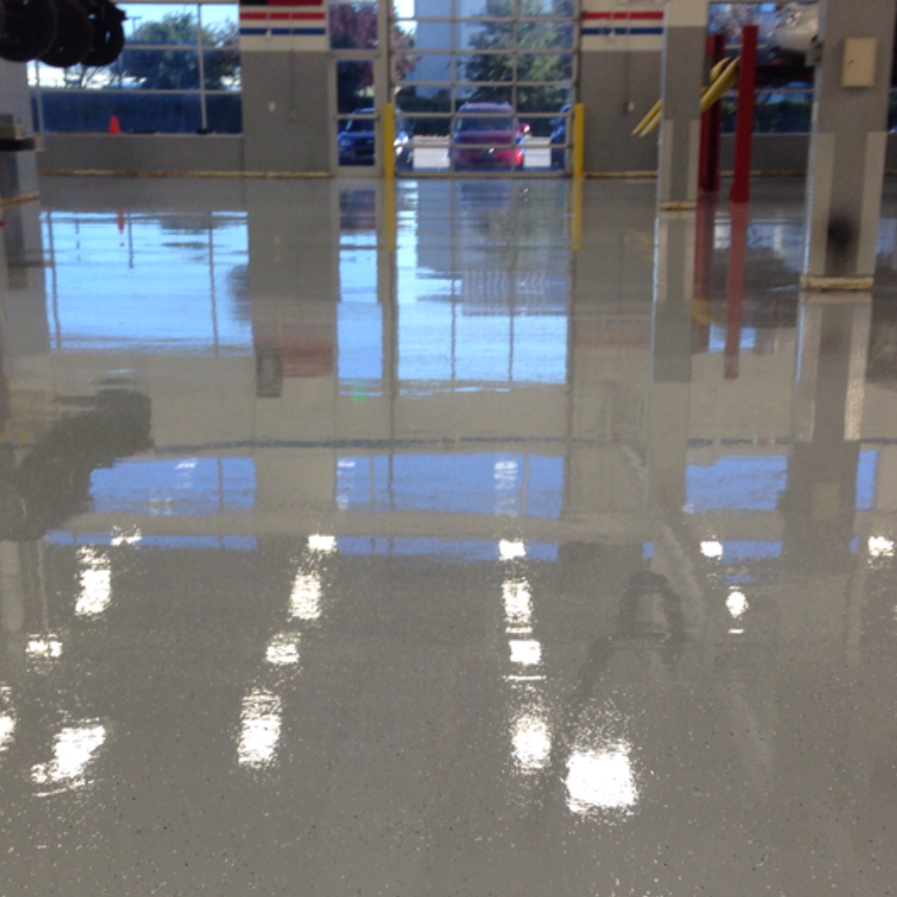 Epoxy Flooring
A top pick for decades for those projects that demand a strong floor, epoxy will seal and protect the surface from chemicals or blunt force.