USA Renovations has provided mechanically polishable self-leveling overlays across the nation. Whether you are a general contractor or direct buyer, we want to work with you and provide the best concrete resurfacing service possible.
What is self-leveling overlay?
Self-Leveling Overlay can be referred to as Concrete Resurfacing, Micro-Topping, Cementitious Overlay, and (if a finish is being installed over top) Underlayment.
Self-Leveling Overlay can be referred to as Concrete Resurfacing, Micro-Topping, Cementitious Overlay, or (if a finish is being installed over top) Underlayment.
They all require a certified installer to prep and prime the substrate for the concrete resurface to adhere.
Whether you are wanting a cementitious overlay that will accept mechanically polished concrete or a higher PSI Micro-Topping, there are several solutions that our trained team can offer.
Self-leveling concrete overlay / resurfacing is installed in within three steps. Our certified installers will analyze the surface to ensure a smooth preparation of the surface.
With the use of concrete grinders or shot blasts, our team exposes a fresh layer of concrete.
Following this, an application of acrylic or epoxy primers will be installed depending on use/system purchased.
Upon curing, our teams are ready to install the self-leveling overlay/concrete resurface.
Much like an epoxy installation, the cementitious overlay is mixed and then installed over the surface. The self-leveling design ensures desirable floor flatness ratings.
Our team follows a compressed installation process to yield the very best final product. Our employees are highly trained to give you piece of mind that you chose the best in the business:
Surface Preparation

Resinous Primer & Placement

Application of Self-Leveling Overlay 
Call For a Quote:
(877) 935-9411
We understand that you may have questions that come up regarding self-leveling overlay. Let us help!
What are the benefits of self-leveling overlay?
The demand for cementitious Self-leveling overlays has increased dramatically over the years with the introduction of Architectural Specialty Concrete/Polished Concrete finishes. Mostly, customers lean toward cementitious Self-leveling overlays when certain circumstances require the use, this includes:
Self-Leveling Concrete – One of the major benefits in a concrete overlay is the ability to conceal sections of the substrate that may be cracked. Using the proper amount of installation depth, our team can conceal these areas to restore the desired finish you are trying to achieve.
A consistency of Aggregate – when specifications require exposed aggregate, it is nearly impossible to predict how concrete will be placed. Large aggregate tends to sink while smaller aggregate will remain at the top. With these variables, it is impossible to mechanically polish concrete and controls the consistency of the exposed aggregate. To ensure evenly distributed exposed aggregate throughout the entire slab's surface, it is recommended to use a high PSI concrete self-leveling overlay. This will create a very appealing finish to customers.
Increased Durability – Concrete Overlays / Micro-Toppings finish with much higher PSI than typical substrate concrete. Most Micro-Toppings finish with a PSI rating of 7,500 – 10,000. Increased PSI allows for a much stronger surface that will protect against wear and tear. In addition to the protection benefits, if an area of your self-leveling concrete overlay becomes compromised, the repair is relatively easy with very little downtime.
Restore Appearance – Over time, the surface of exposed concrete, depending on use, will become worn down from normal wear and tear. In some cases, surface repair via shot blast and or concrete planetary grinders are not enough to restore the surface. With the use of a self-leveling concrete overlay, your surface can now be restored back to its original condition.
Saves Money – Like the above, in situations that the surface of the substrate is unrepairable, a concrete resurfacer / self-leveling overlay can significantly reduce the cost of a cut-out and replacement of a concrete slab.
What is micro-topping and why does it matter?
Micro-Topping or Concrete Overlayment comes in a few variations. Most are composed of a cementitious material or resinous (epoxy). It's active ingredient is either water or an active ingredient which allows a strong bond to the substrate. The reason this product is in demand today is the solutions that can be solved given the presence of a worn-down concrete surface.
Whether the application requires a perfect floor flatness, an evenly distributed exposed concrete aggregate (if polished concrete is desired), or just an overall fresh layer of concrete, this product is an answer to many problematic slabs around the world.
How is concrete resurfaced? What are the steps?
Step 1 – Surface Prep
The preparation step is an extremely important part of the entire application process. It is at this point we grind employing the use of 1200Lbs or higher concrete grinders. The grinders are equipped with course diamond-impregnated segments that shave off a layer of surface concrete to expose a fresh and uniform surface for the primer to adhere to. Upon completion of grinding, our team will patch cracks, pits, or voids at the surface.
Step 2 – Resinous Primer & Placement
To expect an industrial-strength bond to the substrate, it is important to use the proper primer. Our teams only use the best products on the market and in this case, a resinous primer with a broadcast of grit to the curious primer is the best option. Upon completed step on of the application process, our teams ensure that all areas are prepared for the resinous (epoxy) primer. This two-part epoxy is mixed on-site and applied per the manufacturer's specification. Upon completing the primer, our team will then broadcast a sand-like grit compound to the curing resinous primer. This step will greatly increase the bond to the final micro-topping / self-leveling overlay. Following this, our professionals will mix the self-leveling overlay and gradually pour section by section.
Step 3 – Application of Self-Leveling Overlay
Self-leveling overlay/concrete resurfacing is generally a smooth process. With that said, there are several aspects of the job our team of professionals possesses to ensure that a smooth process remains as such. After mixing the compound, our installers will begin the placement of a section.
It is important to keep all areas clear at this point to maintain a seamless install. Upon pouring, we employ the use of back rollers to spread the material out evenly allowing the self-leveling compound to cure in a near-perfect floor flatness rating. This product is quick to cure with foot traffic allowed in about 24 hours. Depending on resinous or cementitious micro-topping, heavy traffic may take 2 – 5 days to fully cure. It is important to understand the manufacturer's requirements prior to taking possession of the slab.
What other options do I have after this installation?
Depending on your specification, you may want to keep this floor finish as is or take the surface to the next step by either mechanically polishing the concrete overlay, sealing, or staining. It is important to note not all concrete overlays will allow for staining. Please check with our team to determine what material you will need to accomplish the desired end result. Below are some common options customers take:
Polished Concrete– The most desired finish upon completion of a self-leveling overlay is mechanically polished concrete. Due to the high surface PSI, this will greatly increase the long-term durability of the surface.
Sealed Concrete– when choosing to protect your investment, the economical choice is a layer of concrete sealer. This also may be your desired choice if you do not wish for the shine of polished concrete. Depending on your setting, our team will determine if you require a topical or penetrating sealer. It is important to note, some self-leveling overlay will not accept a penetrating sealer so please be sure to check with our team of professionals so to be sure you have the best system for the price.
Stained Concrete– this is a great way to add some life to a fresh layer of a self-leveling overlay. Some systems are designed to accept a penetrating sealer while others are not. It is important to check with our professionals to determine which system is best for your applications.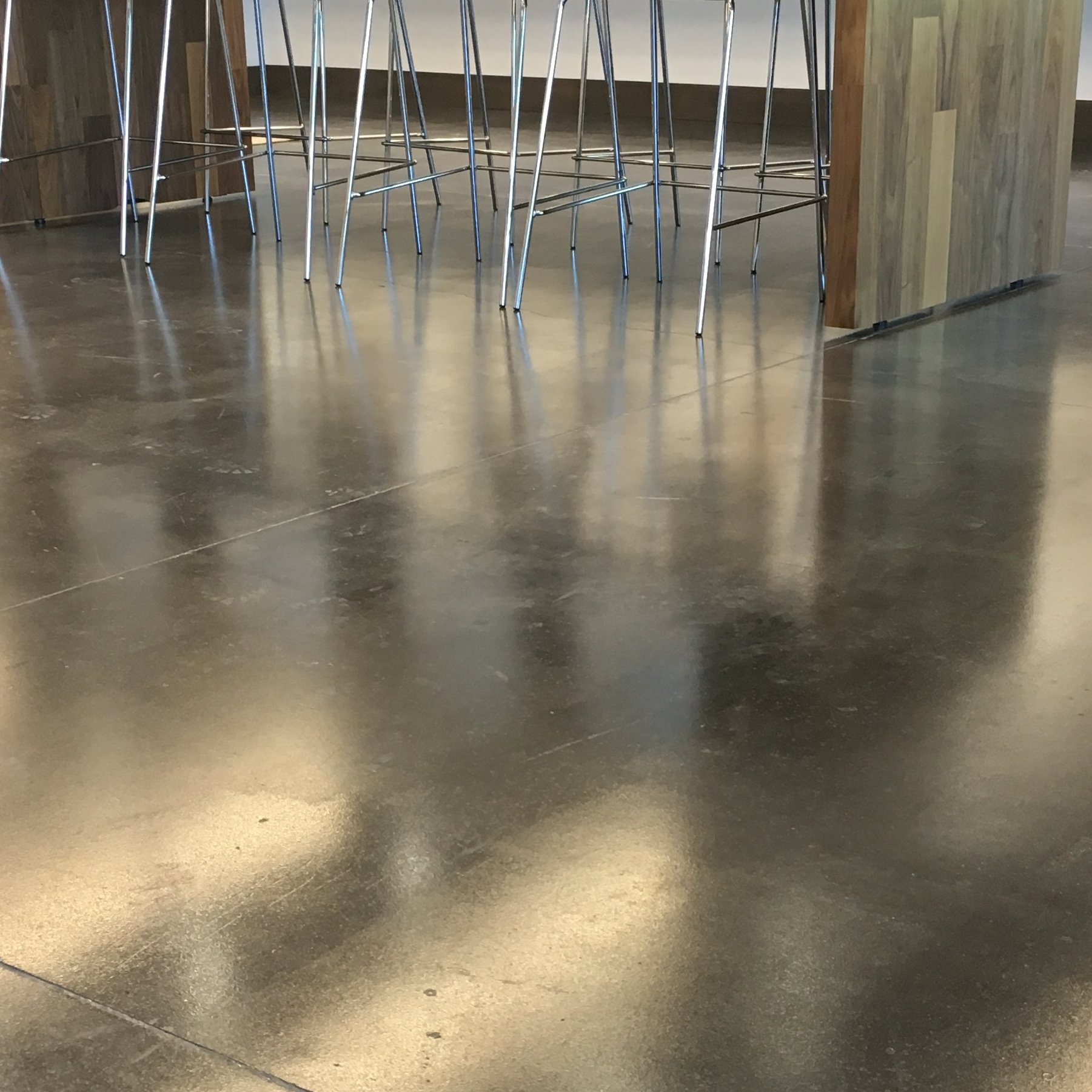 Sealed Concrete
Sealing brings out the beauty of a concrete floor by enhancing the color and adding sheen. Sealing also preserves the decorative treatment.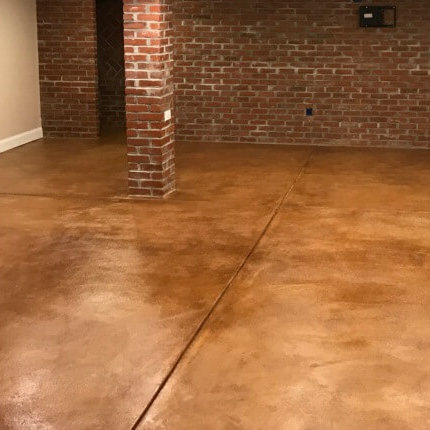 Stained Concrete
With its warm and inviting appearance, Stained Concrete will continue to be a top pick within the concrete finishes sector.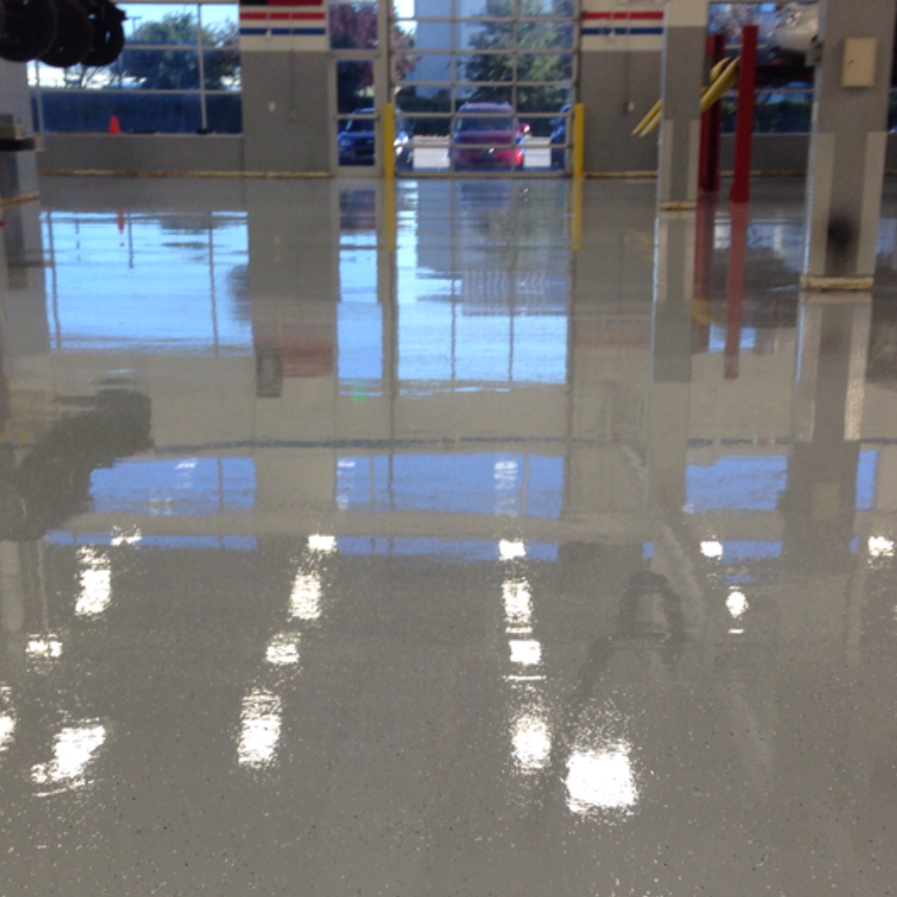 Epoxy Flooring
A top pick for decades for those projects that demand a strong floor, epoxy will seal and protect the surface from chemicals or blunt force.