USA Renovations has provided epoxy flooring services across the nation. Whether you are a general contractor or direct buyer, we want to work with you and provide the best epoxy flooring service possible.
What is epoxy?
An Epoxy Floor has been a top pick for customers who demand a strong floor that will seal and protect the surface from chemicals or blunt force.
Epoxy Flooring is generally packaged in two parts that are mixed prior to application: 1) an epoxy resin which is cross-linked with 2) a co-reactant or hardener.
Epoxy Flooring is formulated based upon the performance requirements for the end product. When properly catalyzed and applied, epoxies produce a hard, chemical and solvent resistant finish. They are typically used on concrete and steel to give resistance to water, alkali, and acids.
It is the specific selection and combination of the epoxy component and the hardener component that determines the final characteristics and suitability of the Epoxy Flooring for a given environment.
With several different types of Epoxy Floors such as Polyurethane, Polyaspartic, Epoxy, and Urethane Cement, it is important to consult with our professionals. We are certified to install many of the most trusted products on the market today.
Costs can fluctuate significantly with one system to the next and requires an expert to truly understand what an adequate coating for your project will be.
We have the ability to install for all users and industries and will point you in the right direction while keeping a budget in mind and staying within the manufacturer warranty standards. 
Each epoxy flooring system is different. These epoxy flooring applications can range from a metallic epoxy floor for a garage to a high build epoxy with a quartz broadcast for a commercial kitchen. With each of these systems being so different in finish, generally, there are 3 major steps in achieving a well-applied epoxy floor:
Preparation

Primer 

Application 
Call For a Quote:
(877) 935-9411
We understand that you may have questions that come up regarding epoxy. Let us help!
What are the benefits of epoxy?
An Epoxy Floor has been a top pick for decades for those customers that demand a strong floor that will seal and protect the surface from chemicals or blunt force. An epoxy floor application has several benefits which include:
Slip Resistant

 

– Spillages can often cause employees or customers to slip and fall. With the majority of epoxy floor applications finishing between a .50 – 1.00, slip Coefficient of Friction rating these resinous floors will significantly reduce a slip and fall from occurring. This allows for a much safer environment for employees and customers.
Easy to clean

 

– with a tightly finished epoxy floor, there is no longer any porosity for oils like products or chemicals to adhere to the surface (unlike that of a concrete surface). With hot water and some cleaning agents, your surface is restored.
Chemically resistant

 

– Epoxy coatings can survive continued exposure to chemicals and oils, which is why many customers in an industrial or retail setting find a resinous floor to be a vital part of the surface that may be exposed to such materials.
Application Time

 

– With curing times being relatively low, large spaces can be turned over quickly to reduce down time. With a wide verity of systems, our professionals will design a system that is the best fit for your time frame and level of protection required.
Durability

 

– Epoxy floor coatings remain to be one of the most durable surfaces protecting against wear and tear to the concrete substrate. In turn, reduced repair costs are contributed to the restoration of the surface.
What is coefficient of friction and why does it matter?
A safe floor must have high levels of friction at the surface which is measured by a coefficient of friction rating. This measurement declares whether a floor will have a high or low probability of a slip and fall. The higher the rating of the coefficient of friction, the lower the chances are of slipping: whereas the smaller the rating, the greater the risk. For standard shoes, a concrete floor surface will displace a coefficient that is high enough to predetermine the reasonable probability of slipping.
The following list provides an average of values: 
Thick grit quartz floors: .85 – 1
Aluminum oxide grit epoxy floors: .65 – .80
Tennant High Traffic System Floors: .65 – .68
Broom finished bare concrete floors: .60 – .70
Epoxy or Urethane floors with Sharkgrip additive: .55 – .60
Bare concrete, non-broom finished floor: .55 – .60
Steel troweled, bare concrete, non-broom finished floor: .50 – .55
Solid epoxy or urethane floor with no grit added: .50 – .55
Linoleum floor: .30 – .50 (depending on how heavily waxed)
How is any epoxy floor installed? What are the steps?
Step 1 – Preparation
Using coarse diamond segments (which are bonded in a metallic matrix) minor pits, blemishes, light coatings or stains are removed from the floor. Most floors can be prepped with the use of a concrete grinder. If more aggressive means are required, the use of shaver or shot blast process can be utilized.
Step 2 – Primer
Epoxy primers provide an abundance of benefits for your coating, with some specializing in problems associated with the surface of the concrete itself. To ensure that you achieve the best possible adhesion and endurance of your setting, the use of epoxy primers are vital to the epoxy flooring system.
Step 3 – Application
During the application of the resinous product, our certified technician will mix both A and B components per the product's specification. Once parts A and B have been mixed, the hardener will begin to run its course. At this point, the team begins back rolling the resin to cover the floor with the thickness specified. Once complete, epoxies produce a hard, chemical and solvent resistant finish.
What color are available with epoxy?
What additives are available?
What epoxy systems are available?
POLY SEAMLESS
This product is a form of resin with a hardener and a catalyst that reacts when blended, forming a hard topical surface that protects the concrete from continuous exposure to oils, liquids, and other fluids that may penetrate into the slabs pours.
These thin mil polyurethane or poly aspartic coatings are generally the most economical while being designed to withstand wear from the elements such as liquid penetration, vehicle traffic, airplanes, and forklifts.
Polyurethane can be finished with Color, Flake, Metallic, or left clear allowing the transparent coating to display the exposed concrete. This is a popular alternative for areas that require an exposed concrete look with the protection of a Polyurethane floor.
METHYL METHACRYLATE
Not considered an epoxy, Methyl Methacrylate Systems are great when the elements present a challenge during install such as time and climate. The system can be installed at temperatures as low as -22F.
This allows them to be installed in active Freezer Rooms which extends the installation season outside of traditional epoxy systems. Methyl Methacrylate (MMA) Flooring and Decking Systems are wear-resistant, impact-resistant and can take full traffic and loads within 2 hours of installation allowing minimal downtime for productions/retail applications preventing the need for multiple days of unusable flooring surface.
HIGH BUILD EPOXY
High Build Epoxy is a thicker two-part, durable 100% solids protective epoxy resin floor coating for concrete. High build epoxies are known for their strength and thickness. Most high build resinous applications can be installed with up to 8 mils thick in one coat reducing the time to install several coats to reach the desired thickness. High build epoxies are typically applied in settings such as extremely heavy traffic areas, production areas, and kitchens These systems come standard with color and if required a quartz broadcast allowing for a higher slip coefficient. If you would like your floor to remain smooth by omitting a quartz broadcast, the Aluminum oxide can be added to keep the slip coefficient high.
URETHANE CEMENT
Urethane cement is in a class of highest available protection that can withstand some of the most extreme conditions that cause wear and tear to the surface. This system is a heavy-duty trowel-applied urethane cement floor that is several mils think which in most cases is much thicker than epoxy. This allows the system to protect and stand up to steel-wheeled carts, harsh chemicals, acids, steam, and heavy impacts. Urethane mortars are also designed to resurface deteriorated concrete in areas in which concrete is heavily deteriorated.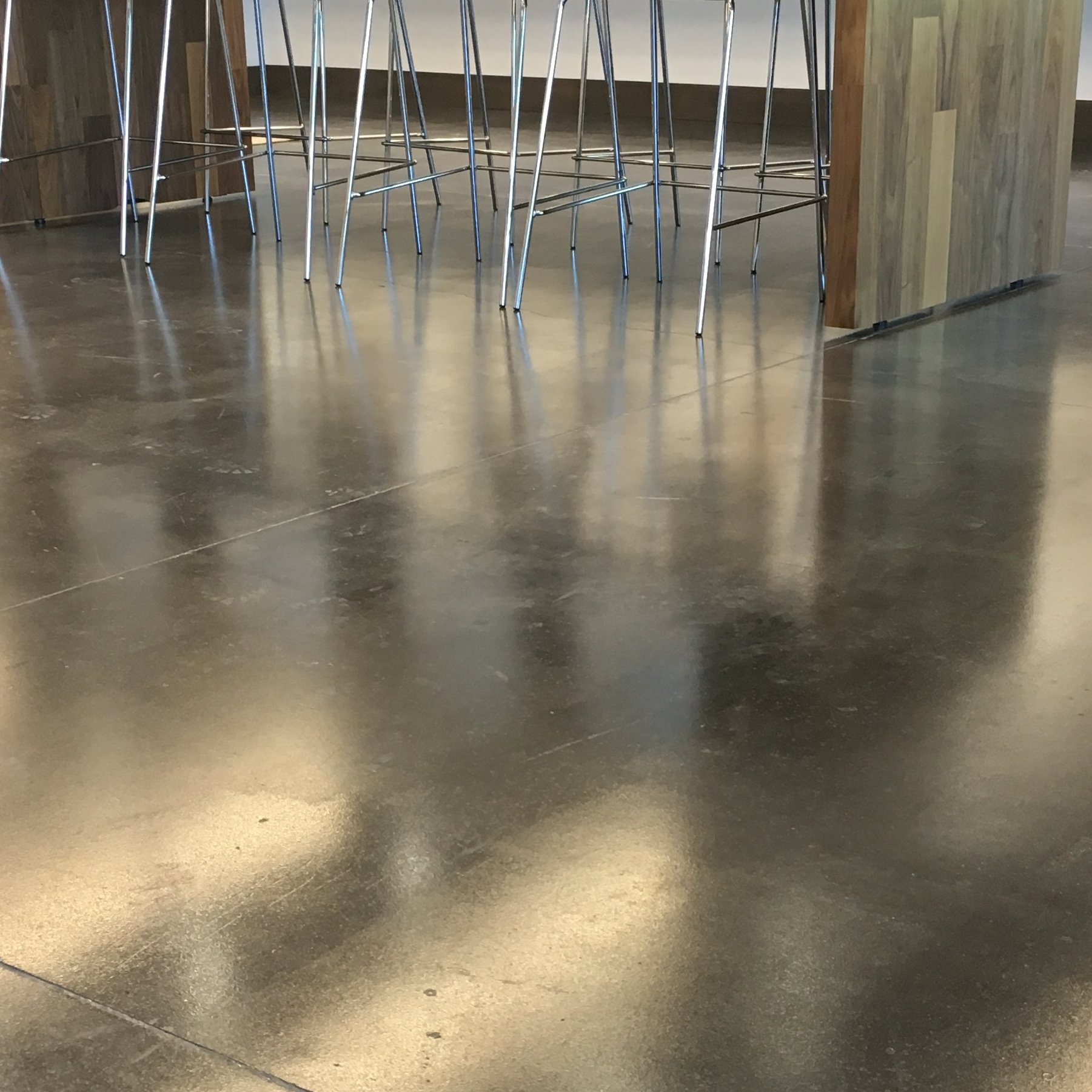 Sealed Concrete
Sealing brings out the beauty of a concrete floor by enhancing the color and adding sheen. Sealing also preserves the decorative treatment.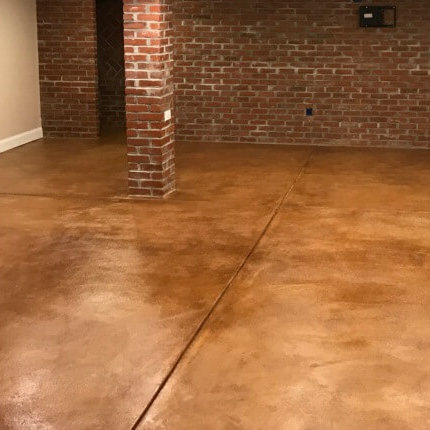 Stained Concrete
With its warm and inviting appearance, Stained Concrete will continue to be a top pick within the concrete finishes sector.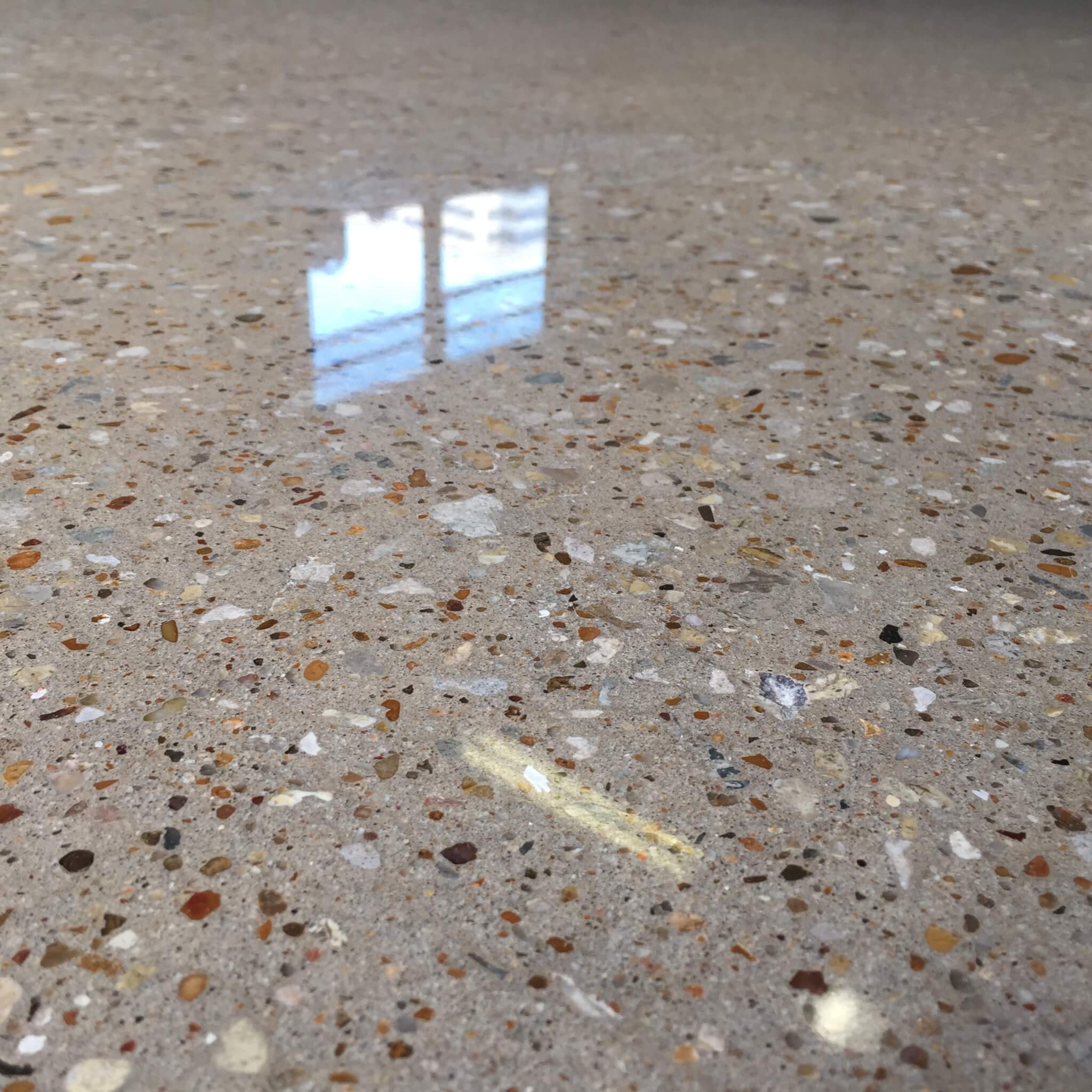 Polished Concrete
In this multi-step process, the concrete floor is mechanically ground, honed and polished with bonded abrasives in order to cut a concrete floor's surface.