How does the price of polished concrete compare to other surfaces?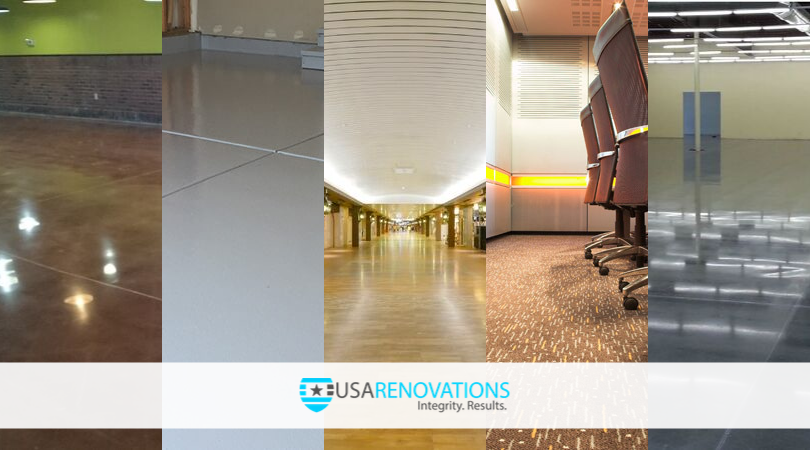 The benefits of polished concrete can help save energy, lower cleaning time and complement any space with its mirror-like finish, but what about the price? Compared to alternative floorings, this option can be costly or cost-efficient depending on a few factors.
AVERAGE COST 
Polished concrete's average cost per square foot ranges between $2 – $5 for commercial floors, depending on location. 
Pricing is determined by the complexity of the project and how many levels of grinding are required for desired results. More decorative effects like staining, colors and finish can increase your total.
Compared to alternative flooring options, polished concrete's pricing may rank higher or lower. Wall-to-wall carpet may cost between $3 – $6 per square foot whereas ceramic tile's cost can range between $11 – $22. 
COST FACTORS
There are many factors to consider with polished concrete that can determine your price tag.
Size and area of the floor
Square footage is not the only factor to consider when it comes to installation. Because of the large machines and tools used during the process, this flooring option can be less costly for larger areas. The more square footage, the more cost savings opportunities there are.
Concrete conditions 
The condition of the concrete will also determine the price. Cracks must be filled and sealed appropriately before grinding and polishing can begin, which can cause additional labor costs for surface repairs on top of your project. 
Grinding levels
Grinding levels determine the glossy finish on polished concrete. We base our estimates on how many times we believe we'll have to grind the floor in order to get the desired level of shine. The more rounds of grinding, the higher the cost.
Alternative flooring options like carpet and wood are priced by the quality of the product used. The higher the cost, the better the quality, meaning you may be able to walk away with a lower bill depending on your standards and needs.
LONGEVITY
Although a large and intricate polished concrete project has a larger price tag, the longevity of these floors should help improve the total. Because of its durability and resistance, replacements are less common compared to other floorings which can save money over time.
Little maintenance is required for polished concrete because of its resistance to dirt, debris and moisture transmission. Alternative floorings like wood and tile will have issues like adhesive deterioration, color changes, mold and bacteria growth, requiring repair and/or replacement. Replacing tile can cost an average of $5 to $7 per square foot which will usually need replacing every five to seven years.
USA Renovations guarantees our polished concrete to last a minimum of 10 years or more, but with proper maintenance, replacement is hardly ever necessary. 
NEED TO COMPARE FLOORING OPTIONS? GET A FREE QUOTE!
We can help you compare flooring options for your next project. For additional information, questions about or services or a FREE quote, contact us by calling (877) 294-7525 or email John.Clark@USARenovations.com.